In cooperation with ThemePunch we proudly presents the ultimative Slider Revolution coming to TYPO3!
Slider Revolution is the #1 selling slider on CodeCanyon. More than 2.500.000 websites use this awesome slider. Now everyone can use it in TYPO3 too.
Slider Revolution comes with tons of features, plugins, objects, templates, free media and much more. Create sliders, OnePage sites, carousels, animated content blocks, galleries, media streams and whiteboards for the perfect presentation. Setup a grid based slider and change the appearance for desktop, notebook, tablet and mobile devices! Create beautiful effects on slides like parallax, ken burns, apply overlays or set background videos directly from YouTube or Vimeo. Create stunning effects for your layers or apply google fonts to your text layers. Create your layers interactive with mouseover events or click events. Animate layers by interaction with other layers. This is all built in, no coding needed!
TYPO3 Slider Revolution is a all in one product! Just get one license - all included: The TYPO3 Slider Revolution Extension, the Slider Revolution jQuery Plugin and the Slider Revolution Visual Editor Add-On.
---
80+ Templates
Use any of the 80+ included slider templates to start your project. Create streams, sliders, carousels or complete front pages. You can use the media from the templates for free in your projects!
Additional Add-Ons
Create cool effects with the Particle Effects, the Holiday Snow Add-On or the very cool PolyFold Scroll Effect. Create a nice text effect with the TypoWriter Effect Add-On or just make easy and fast Backups of your work with the Backup Add-On.
WhiteBoard Presentations
With the WitheBoard Add-On, you can create interactive presentations. Add a soundtrack to your presentation and make interactive buttons and multiple slides on your whiteboard.
Get access to the WhiteBoard object library. This library includes more than 300 icons and drawings special for WhiteBoard presentations!
Powerful Editor
This editor beats all! Create awesome slides with cool layers. The editor helps you to get the maximum out of your ideas!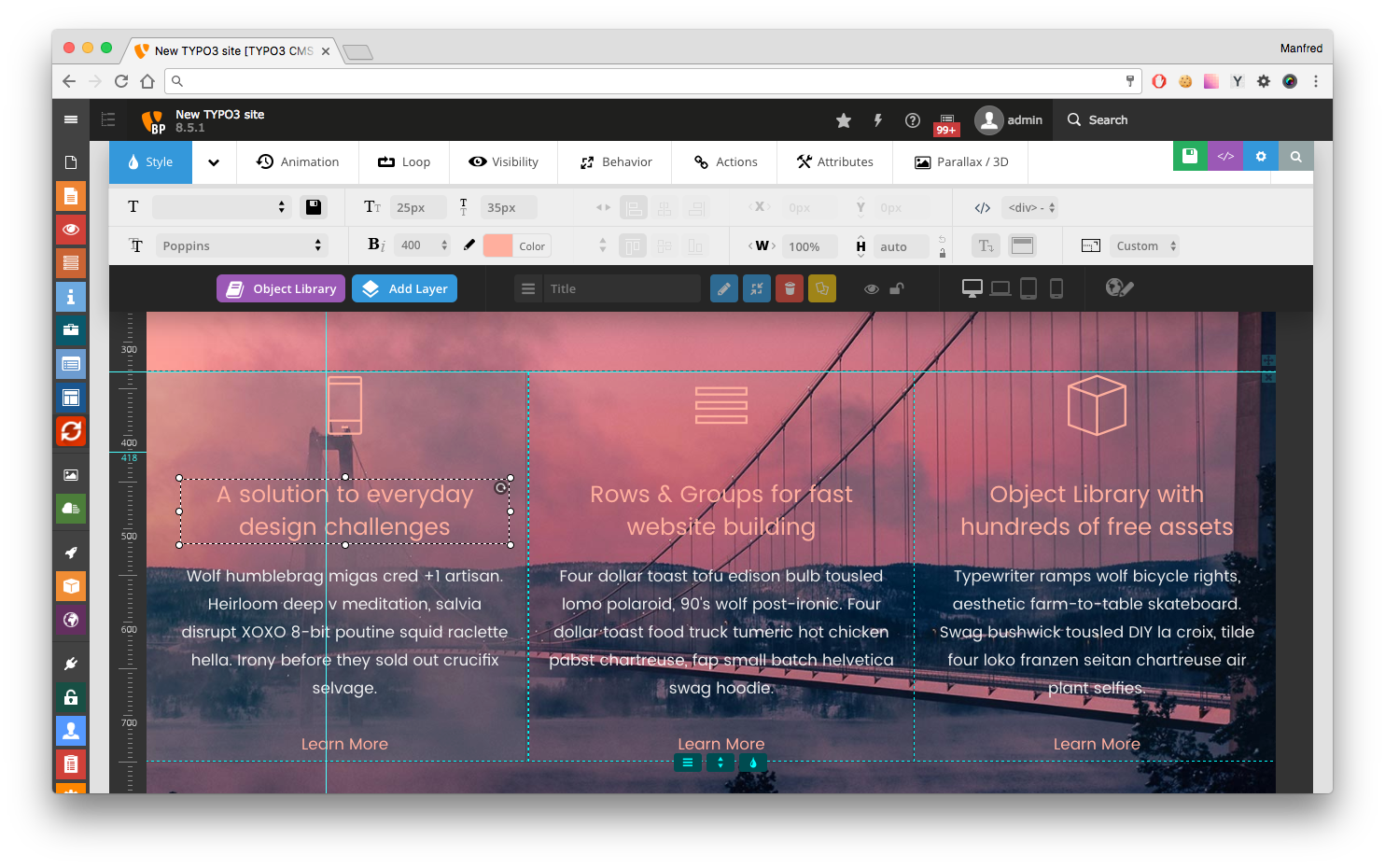 Total responsive control
You can take control over your elements on notebooks, tablets and mobile devices. With the built in size switcher you can see directly how your layers look on the given screen size. Apply settings from another viewport or rearrange your layers for every device!
Optimized Performance
With Slider Revolution you have every time a eye on the slider performance. Check the loading speeds for the current slider and see, which images you can optimize. Analyze CSS, JS and Google Fonts details. Activate lazy loading for more performance!